Hockey for Beginners
Because it's the only sport on right now
So you've watched anywhere from 5 minutes to 15 hours watching the Stanley Cup playoffs and still have no idea how hockey works. Never fear, the Puck Bunnies are here to explain the basics. Learning the fundamentals from a couple of basics, how great is that!!
Uh, so.. How does hockey work?
Have you ever watched soccer? Imagine if soccer was much faster and played on literal razor-sharp blades and it was inside. Honestly, that's basically it. Hockey is fast soccer! (Audrey's note: no it is not). See! It even looks like soccer kind of: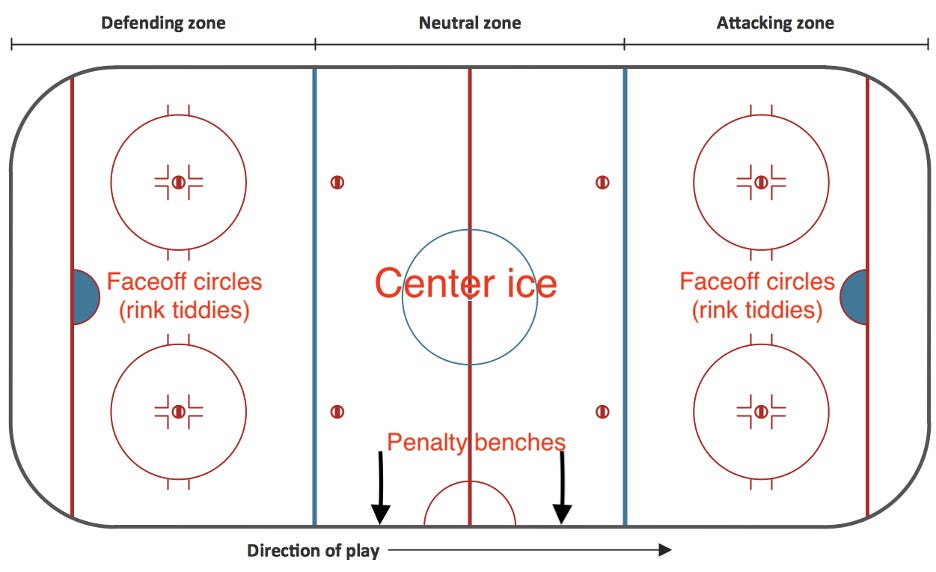 Cool, that was incredibly unhelpful. How many players are on a team?
Teams can have 6 players on the ice at a time during normal play: 3 forwards, 2 defensemen, and 1 goalie. However, teams have been known to spice it up a little and add an extra forward instead of a second defenseman. Does this work? Sometimes. Is it cool? Very.
How long are games?
I mean… You can kinda figure it out as you're watching but FINE!! Games are 3 periods of 20 minutes each, with an intermission in between each period. Nice and short for those of us with the memory of a particularly forgetful goldfish.
Only 60 minutes of play??? What if there's a tie????
During the regular season, if there's a tie, the game morphs into SUDDEN DEATH MODE for 5 minute periods until somebody, ANYBODY scores. Oh, and it's 3 on 3 too, which is pretty tight.
During the playoffs, the teams will play a 20-minute period with all 5 players. It's not as fun.
Are there rules or do the boys just bash into each other?
The NHL isn't quite that lawless. There are several different kinds of penalties handed out for breaking the rules. The offending player will then have to sit in the bad boy chair (the penalty box) for however long the penalty is.
Minor - 2 minutes
Double Minor - 4 minutes (duh)
Major - 5 minutes
Misconduct - Rest of game
Match - Rest of game
Most penalties assessed during the playoffs be "minor" penalties. A little fun fact for you is that during the playoffs the refs barely call anything so prepare to see some gnarly elbows to the face or something.
What's a "power play?" Sounds like some Dragonball Z shit to me,
How dare you accuse hockey of having "anime vibes." Power play is the reward for the team who didn't get a penalty. While the offending player is in the box, the coach can't sub anyone in for the length of the penalty. The other team, however, still has 5 skaters on the ice. This is called a "man advantage" which doesn't make sense to me since men are trash.
Can multiple players serve penalties at the same time?
Glad you asked! Yes they can.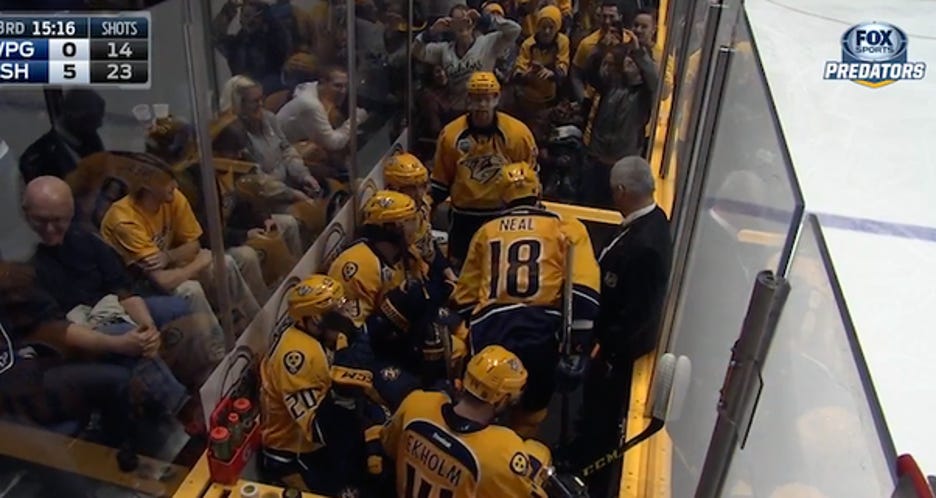 What kind of penalties can you get?
Here are some of the most common minor penalties assessed:
Boarding: Pushing an opponent violently into the boards while the player is facing the boards.
Charging: Taking more than 3 strides or jumping before hitting an opponent.
Cross-checking: Hitting an opponent with the stick when it is held with two hands and no part of the stick is on the ice.
Goaltender interference: Horsing around too much with the freaking goalie.
High-sticking: Touching an opponent anywhere with a stick above the shoulder level.
Holding: I'm not going to explain this one, use context clues.
Hooking: Using a stick to slow an opponent.
Slashing: Swinging your stick at somebody.
Too many men: One team has too many guys on the ice. This happens more than you'd think.
Offside: Attacking team crosses the blue line before the puck.
Icing: Literally no clue stop asking me this please!!! I WILL NEVER FIND OUT!! I WILL REMAIN PURE!
Fighting: You get it.
Wait, I thought fighting was okay in hockey?
Well, that depends on your definition of "okay!" Hockey fights used to be a much bigger part of the game, which is how hockey fighting nomenclature like "enforcer" made it into the mainstream through movies like Slapshot, and of course the game itself. Nowadays, fighting is definitely still part of the game, and you're likely to see a scuffle or 5, but the instigator will usually be penalized. Gone are the days of wasting a precious spot on a line for some goon who can barely skate, which, of course, all the old hockey guys hate.
So it's okay to fight?
No.
But they do it anyway?
For all intents and purposes, yes, this is the arrangement they've arrived at. There's an entire little dance both players do to agree to fights. It's a whole thing. It would be wrong to make them stop and also the NHL tried and it didn't work, so the boys get to swing some punches now and then.
Okay… So you mentioned a line. What is a "line"? Like what KIND of line if you know what I mean? ;)
Lines in hockey are pretty self-explanatory, they are the "lineup" of which players are going to play together during their "shifts," which is the term for the player's turn to be on the ice. Lines are made up of a center, two forwards, and a defensive pair (two defensemen). Each team has 4 lines, so that's why the bench gets crowded sometimes!
Why are hockey players on the ice for such short amounts of time?
This really confused the frig out of me when I was getting into hockey for the first time because it really does seem like the guys are on the ice for like 2 seconds each. Hockey shifts are on average a minute and a half, which sounds extremely easy until you remember they're sprinting nearly 5 miles a game… In knives… On a slick surface… While other guys hurl themselves to-and-fro all around. They get tired out!*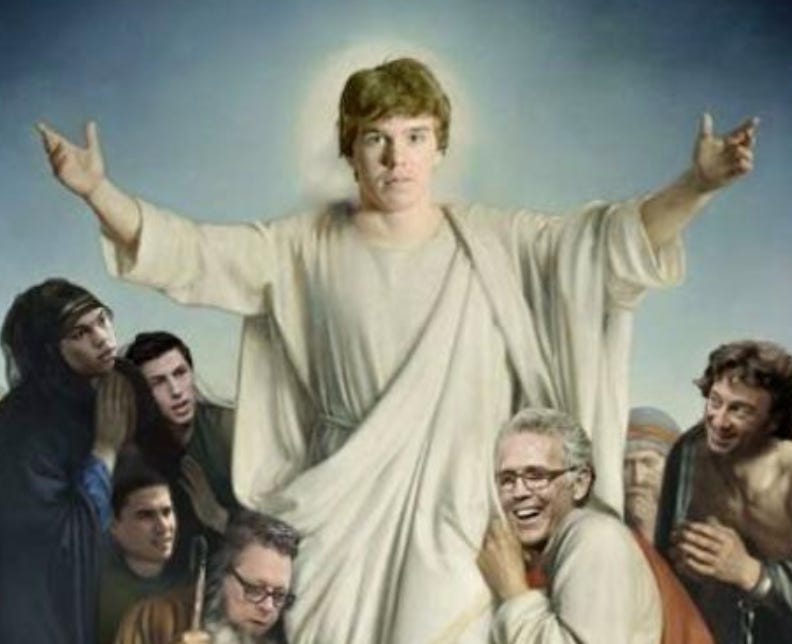 *Unless you're Connor McDavid, known mutant, who plays like 10-minute shifts because the Oilers suck so bad.
If players are on the ice for only short shifts, how are they able to make plays?
Much like soccer, hockey does not depend on the Xs and Os style of playmaking. The key to understanding hockey plays is recognizing a team's forecheck and backcheck. Forecheck refers to when the opposing team has the puck near and around THEIR zone, and forwards try to force the opposing team to turn over the puck. Backcheck, on the other hand, tries to force a turnover with pressures from the forwards in YOUR team's zone usually leading to an odd-man rush.
Can you explain that to me as if I was a dull and placid 7-year-old?
Both of these terms are just words for when a team has to haul ass back to their own zone or the other team's zone to force a turnover. It's just referring to the general movement up and down the ice and applied pressure.
Let's talk about goalies. They have ALL that gear on which helps block the puck, why not go for it big time and hire sumo wrestlers or other large and square fellows to stand in front of the net?
I have contemplated the idea of a Large Square Goalie for many (3) years myself, so I understand your zealous and cheeky suggestion. But, no, even the biggest and most square goalie would still have gaps where a puck could slip through. Also the minute the NHL sees teams trying out sumo mode goalies they would just make the nets bigger, I guarantee it.
That's incredibly disappointing.
I know.
One last question, is Greg McKegg a real person?
He is real, he is powerful, and he is my friend.